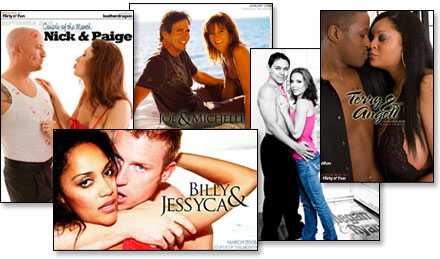 Showing off the best of the sexually adventurous communities, our Couples of the Month are hot, fun and very active in the Lifestyle. They are real sexy, real people, crushing stereotypes and opening minds.


Our Couples of the Month get...

Professional photo shoot (you get the digital pictures!)
A lifetime Elite Kasidie membership
Featured in the magazine
The "Celebrity" seal on your profile
Free admission to all Kasidie parties
There are only 12 couples per year... take this once in a lifetime opportunity to be a star and have some fun.
Click here to be our next Couple of the Month!


Q: Do we have to be in the USA?



You can be anywhere in the world. However, currently all of our Kasidie contract photographers are in the USA. But if you know a professional, lifestyle friendly photographer outside the USA then let us know and we'll work with them to set up your photo shoot!

Q: Do we have to be models, or modelesque?



Our Couples of the Month are all body types, ethnicities, and cultures. We want fun, enthusiastic couples who represent the diversity and community of the lifestyle. It would be extremely rare for a couple to have any modeling experience (unlike most Unicorns), but don't worry about that as the photographer will help pose you in ways that will make you say "wow, do we really look like that?" (yes, you really do!). So just be yourselves!

Q: Where does the photoshoot take place?



Sometimes it's at the photographer's place, other times it's at your house or at a remote location. The most important thing is that your personality really comes through in the pictures!

Q: Do we have to pay anything?



The photo shoot is free. And you get a complete set of professionally re-touched photographs (digitally) at absolutely no cost.

Q: How do we apply?



Easy, just send me a note and tell me a little about yourselves. Be sure to include your Kasidie profile name so I can read about you.