Join Kasidie's award-winning, full-featured and multi-layer proprietary social networking platform to your community, sit back, and watch things grow!

Your co-branded lifestyle social network is...

✔ Quick & Easy Set-Up




✔ Feature Rich


✔ Free!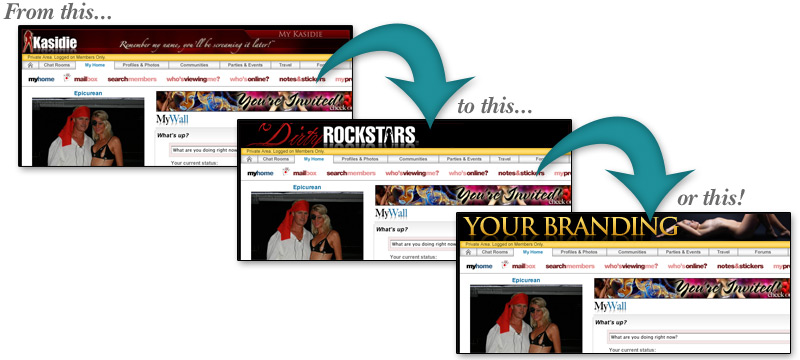 Features –

✔
Your branding in the headers, backgrounds and email
✔
External email alerts (e.g. "you have new mail") are "from" you and link users directly to your website, not to Kasidie (+Plus! edition)
✔
Global community – your members see your brand, but are still part of the global, thriving system-wide database
✔
Exciting site features, tools and apps that members love
✔
Extensive profile options
✔
Advanced search
✔
Hundreds of parties
✔
Rendezvous hook-up's
✔
Travel listings
✔
Unlimited photo albums
✔
Communities for every interest
✔
Forums
✔
And much, much more!
Benefits –

BRAND
Your members see your brand on all pages and on all site email
Tools to email your members, write on their walls, & market your events
TRAFFIC
Increase traffic and loyalty to your website
$ REVENUE $
Huge share of the subscription revenue
We handle –

✔
Customer service
✔
Billing & related issues
✔
Photo review
✔
Certifications
✔
More customer service
✔
Spam compliance
✔
Technology
✔
All operating costs
✔
Ongoing feature & app development
✔
Systems administration & infrastructure maintenance and upgrades
✔
And still more customer service
How much does it cost?

Premier Edition – FREE! Yes, really.
+Plus! Edition – $250 one-time fee to cover set-up expenses.
Pro +Plus! Edition – $500, our +Plus Edition with all the graphics created by Kasidie.