I am looking for the attractive and the adventurous who are interested in being featured in the magazine. The type of shoots are determined by what the model/couple is comfortable with. Travel and lodging are taken care of. Interested? Email me three pictures of yourself. All models MUST be over 21. Please include your name, contact info and birthdate with the pictures and send them to casting@kasidie.com.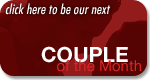 Couple of the Month: showing off the best of the sexually adventurous communities, my Couple of the Month is hot, fun and very active in the Lifestyle. These are real sexy, real people, crushing stereotypes and opening minds.

People from the United States and SERIOUS INQUIRIES ONLY, please.